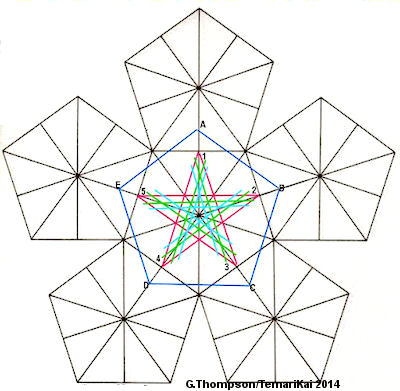 Work the outline pentagons (shown in dark blue on the diagram), extending about 1/3 of the way into the adjacent pentagon, using the short legs of the pentagons to set your stitching orientation. Each of these will overlap and give you a mitsubishi crystal at the intersection of three marked pentagons.

For the star within each marked pentagon, follow the diagram for hoshi kagari, sakasa style in the stitching order of 1-3-5-2-4-1 around the short pentagon spokes. It will only take about three to five rounds to fill in the star (but this will depend on the size of your mari - work until the stars are filled). In the diagram the first round stitched is shown in red, the second in green and the second in light blue.

Work the star in each pentagon. If you wish to work the last round in metallic to accent and embellish the stars, remember to change out the thread on the next round.