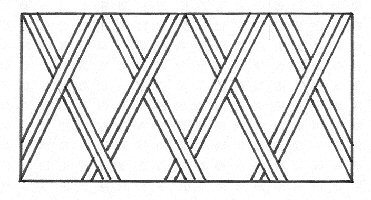 Second rectangle is worked thus (see diagram at left): use the same vertical guide lines as for the other rectangle. Take stitches from top to bottom to top etc as shown in the diagram. Then repeat in the opposite direction, weaving as shown. The stitches should be taken with the needle always pointing N/S and not E/W as in most designs. using 1 row dark, 5 light, 1 dark. Repeat in other 5 rectangles. Note: these 2 rectangles, when repeated, should be worked so that neither of the two patterns join onto another rectangle with the same pattern, as per photograph.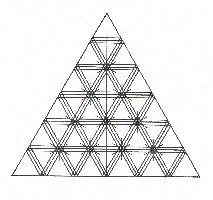 The triangles are worked as follows: Divide the triangle equally, with 5 lines in each direction, using your pale color (double thread). Anchor at each intersection with a small stitch in each direction with your contrasting thread, forming stars.

Finish off by wrapping with one row metallic and either side of this, one row of your dark color as shown in the photograph. Also use this sequence of wrap colors to bisect the squares.