This is an all-over kousa design. It can be worked in 2 flavors - with the butterflies in 3 different colors (shown), or all the same color. If working all the same color, which is easier, then you only need one pattern color of pearl cotton, and use only this diagram below. To work butterflies in 3 colors, see placement diagrams below in addition to this diagram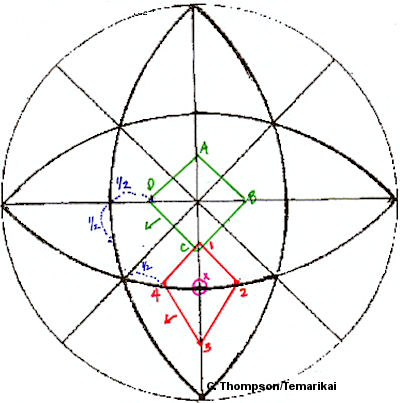 The red diamonds form the background; the green squares form the butterflies. All stitching is double thread of #5 pearl cotton. Locate the diamonds on the C8; with background color, stitch from points 1 to 4, back to 1. First round stitches are placed half way between the marking intersections. Stitch one round in each diamond shape on the C8. Locate the six squares on the C8, shown in green on the diagram. With butterfly color (if using only one color) in double strand, stitch the square from points A to D, back to A. Stitch one round in each square on the C8.

Repeat this cycle to cover the ball; fill in any open spaces on the background as needed with the background color (it's rare that all-over patterns don't need some filling in). When you have completed stitching the layers that build up the butterfly pattern and filled in any open spaces between the diamonds, use a contrasting thread to stitch the butterfly bodies; two long stitches crossed where the square points meet, with two French knots at the top of the antennae work well, or you can use your imagination.