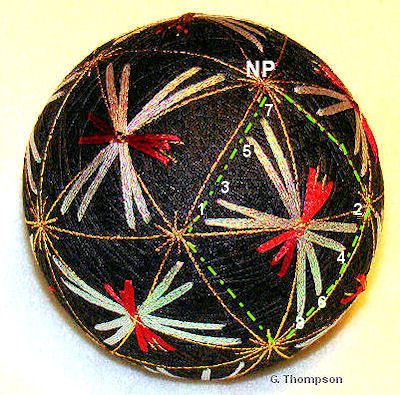 Anchor the thread and work matsuba kagari: come up at Pt 1, down at Pt 2, up at Pt 3, down at Pt 4, etc. until the 4 lines are complete.

Use three matsuba kagari for the body. Stagger the lengths of these stitches to give a head and tail effect. Work a cross stitch, and then a longer one in the center of the cross as shown in red in the photo to the left.

With thinner metallic, place a cross stitch across the body and wing stitches to hold them in place - don't pull it too tight. Place 2 long stitches on one end of the body, making a "head" - these stitches will form the antennae.

Stitch a dragonfly in each of the 12 diamonds on the mari. Embellish the temari as you wish.