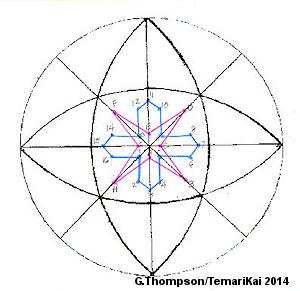 This design is a variation of uwagake chidori kagari, expanded as shown on one round of the pattern. How far out-placed you work off the quadrant lines for points 2,4 6,8 etc. depend on the size ball and how deep you would like the offset and angles to be. It will require a bit of trial and error, but the trick to remember is the lines represented by segment 1-2 must be parallel to the marker line it lays along side of. Work the cycle of 1-16, back home to 1; then work the cycle A- H back home to A. Alternate these two cycles until the desired number of rounds is completed - usually about six.

The points of the letter cycle, which is a standard uwagake round, may be extended to meet at the corners of the division faces for a very nice effect.

Repeat the pattern on in all six faces of the C-8 division.