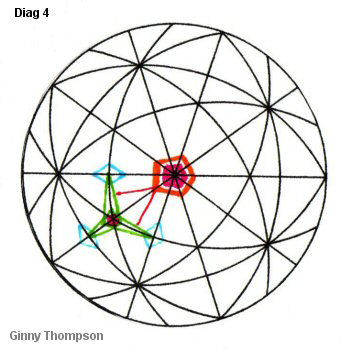 Locate the triangles around mari. Work mitsubane Kikkou (Tri-Wing with Hexagon) in each triangle as follows: With Kyo pink, 2 rows of hexagon. With Kyo green, 3 rows of Mitsubane, stitching in between the rows of the blue diamonds. Place first row of mitsubane two rows into diamond. Finish in center of diamond. With Kyo gold, work 1 row mitsubane and then 1 row around hexagon to highlight centers.

Repeat in each triangle.

To finish, with Kyo gold work 2 rows around pentagon centers of hoshi stars to highlight centers. with Kyo gold, work straight stitches from corners of pentagons to center of mitsubane wings, carrying gold thread under previous stitching.