TalkTemari Gatherings
As much enjoyment as we have online as a group, it's even better in person. Within a few years of the advent of the discussion group, thoughts began to rumble about people being able to meet up in person to share their temari experiences. The first meet-up happened in 2000, with 2 TalkTemari gals sitting down in the lobby of an Atlanta, Georgia hotel. That generated determination in yet another TT member that a group of TT stitchers could be gathered in one place - and they did, in November of 2001 in Birmingham,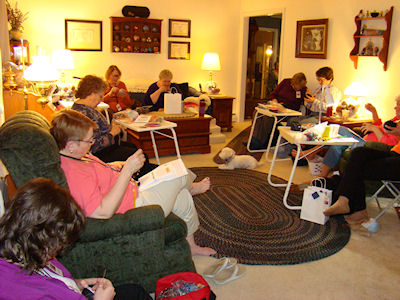 Alabama. Following that, the first of what would become an annual New York State StitchIn came about in April of 2002. After a very successful 15 year run, the NY StitchIns were retired after the 2016 event.
From there, the ball was rolling (no pun intended). Over the years, there would be get-togethers in Richmond, VA USA, Orange Beach, AL USA, Atlanta, GA USA, FT Wayne, IN USA, Nashville, TN USA, British Columbia, Canada, Costa Mesa, CA USA, Dublin OH USA, Fairhope, AL USA, Asheville, NC USA, Scottsdale, AZ USA, Orange County, CA USA, & Limsassol, Cyprus, with many of these occurring on a repeating basis for a number of years. The NY Stitchin remains the longest running, an annual event since 2002. These have all been events open to all TalkTemari members; there have been a multitude of private sit-and-stitch weekends, as well.
Without fail, these events have been memory-makers, not only as learning experiences (especially in the earlier days when we were all trying to figure things out) but also in hilarity. Each one has had its own special flavor, and attended by anywhere from 5 to 35 people. As the host of the NY StitchIn, we've welcomed some 66 folks from 26 states of the USA as well as from Canada, Cyprus, The Netherlands, Sweden, and Great Britain. The NY events were on weekends, running from Friday evening through brunch on Sunday. Programs have ranged from group projects to separate learning sessions (for the 10th Annual in 2011, we rotated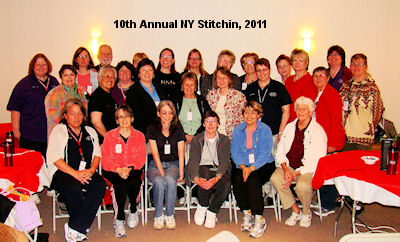 35 people through 4 learning group sessions, that offered a choice of 8 different mini-programs), to technique lessons for the full group. Participants bring some of their completed temari to display, and for many people it's the only chance to see someone else's work. The temari exchange is always a highlight every year, as well.
It can be done, and it's a great experience. They don't have to be major, fancy events. A simple meet-up at a coffee shop or other public place is a great way to share temari with someone. An easy way to start is simply to select a pattern, perhaps from one of the Japanese books, or any other resource, and work on it as a group; you'll be amazed to watch all of the different approaches and outcomes.