Ordering a V-Ruler
A tool that has been unique to temari-making is a V-ruler. They are great little gadgets that are simple to use as one method for dividing and marking a 10 Combination Division. They were supplied through the Japan Temari Association in Tokyo; the JTA agreed to allow them to be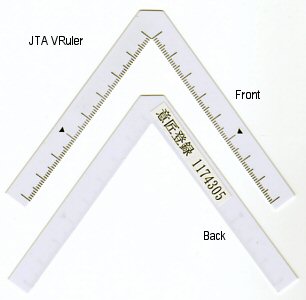 offered through Temarikai, in good faith only at the cost of purchase/shipping from the JTA (supplies and related items sold through the JTA and Temari Museum are what help to provide the operating funds for the Association). However, the company which produced them for the JTA has seems to have ceased operation. While there are a few remaining available, most of the temari-making world has transitioned to the
C10 Ruler
.
A few V-Rulers are still available at cost (purchase plus shipping from Japan) from the JTA for $3.00US per V-ruler. Please email
gthompson@temarikai.com
for availability and further info, and indicate if you are within the US or not. However, I urge you to take a look at the C10 Ruler option, as VRulers will become extinct and the C10 Ruler is actually easier.
US orders for VRulers will need to include a stamped, self-addressed #10 (business letter size) envelope, along with the $3.00 (cash or check) ruler cost. Orders outside of the US are $6.00US, and will be processed through PayPal; higher cost covers PayPal fee and international postage. Only international requests can be handled through PayPal.
Last updated 2/2015 © 1998 - 2015 TemariKai.com, G. Thompson/PuffinStuff, Inc.